Rising Artist Elle Varner Talks About Her Debut RCA Album, Perfectly Imperfect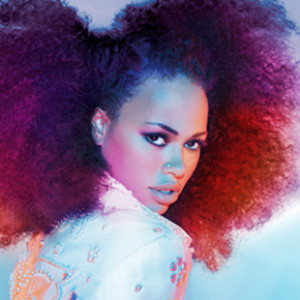 Elle Varner may have chosen the title of her RCA debut album Perfectly Imperfect to take a little of the pressure off as she launches her recording career, but there's no denying that the 23-year-old singer/songwriter is off to a perfect start. Her infectious lead single "Only Wanna Give It To You," produced by Oak & Pop and featuring acclaimed rapper J. Cole, was released last summer and reached #20 on the Billboard R&B/Hip-Hop Songs chart. Last October, Varner appeared on BET to premiere the song's video, which was shot in New York City and features the singer shopping for shoes, chasing her leading man and cruising with her girlfriends in a yellow Jeep Wrangler.
In addition to putting out a follow-up, "Refill," the L.A. raised, Brooklyn-based performer recently created Conversational Lush, a 14-track mixtape collection blending hip-hop, jazz and soul. Throughout February, Varner is on the nationwide BET Music Matters "The All of Me Tour," headlined by Estelle. Notable previous performances include the BET Awards in 2010, a spotlight at the legendary Apollo Theatre and opening for Keys at the Cayman Islands Jazz Festival.
Though Varner was originally signed to J Records, that label, along with Arista and Jive, was disbanded last fall by the RCA Music Group. Despite the changes, she has enjoyed the full support and promotion of RCA. "I have input into the process," she says, "but ultimately, it's good to be on a label with people with a strong understanding of how to develop and break an artist. If it had been up to me, I might have gone with 'So Fly' as my first single because it's such a personal song and offers very intimate details about my life. But the label felt it would make more sense to offer a more mainstream tune with a familiar vibe like 'Only Want To Give It To You' to introduce me. Thanks to a great production and J. Cole's rapping, that song has helped me establish a strong foundation to build from."
A key track on Perfectly Imperfect, "So Fly" is an ode to loving and appreciating all the things that make Varner special, by her own definition. "There was a guy that I really liked," she says, "but he put me in the 'friend' category from day one. The girl that he liked was skinny and had all of these material things, like Louis Vuitton bags – she was just, fly. One night, I was so pissed that I went to my room and just let it all out. I was initially going to write this depressing song, but then I realized that I could try to find something positive in that situation. I changed direction at the end and started the last verse with, 'I've decided, I'm the definition of fly…'"
Another song, "Welcome Home," is one that helped Varner score a co-publishing deal with Sony/ATV Music when she was already meeting with executives from J Records about a recording contract. While still a student in NYU's prestigious Clive Davis Department of Recorded Music—which trains undergrads in the production, business and history of popular music, with a focus on entrepreneurship—Varner was working as a coat check girl at a Manhattan club when she met someone who introduced her to a contact at her management company, MBK Entertainment. Varner played some original songs on the guitar for the management team and they quickly signed her and got her a deal at J. "I had never played 'Welcome Home' for anyone because it sounded so mature," she says. "My dad came into the picture and told me I should play it during my meeting at J Records. Everyone was flabbergasted at that song and I got my first publishing meeting out of that."
Varner brings a colorful musical history to her burgeoning career. The daughter of published songwriters Jimmy Varner and Mikelyn Roderick, she spent most of her childhood sleeping on studio couches, running around green rooms and watching her parents struggle to make a name in the industry. Another track on the debut album is "Sound Proof Room," a seductive, rock tinged ballad which features her mother's background vocals blended into her own. "My mom sang back-up for Barry White for six years, so she really understands the art form of background vocals," Elle says. "Having her there to help me achieve those intricate, layered vocals was an awesome experience."
Varner was singing as soon as she could speak and began playing the flute at age six and piano at nine. Her ear for harmony, melody and complex rhythm was developed at Amazing Grace Conservatory, and later, while attending The Hamilton Academy of Music, she was part of the school's vocal jazz group. A standout student, Varner was chosen to be part of The Grammy in the Schools Mentoring Program—which included weekly trips to the Fox Studio, where she met with mentor Kelly Burgos and Fox Music President Robert Kraft. Though she only had a C average in high school, she was admitted into the second class of the Clive Davis program at NYU; upon graduating, she was designated as "most likely to get signed" and "most likely to win a Grammy." Four years later, Varner is halfway to fulfilling those prophecies.
"Growing up in the studio was absolutely normal for me, but looking back, I realize that it's not a very common environment for a kid," Varner says. "At an early age, I absorbed so much about music and learned how to create a song, from beginning to end.  My dad always asked for my opinion about what he was working on and I remember my mom would ask, 'What word should I add here?' They really empowered me. But I'm going to be honest. This is not an easy business. I read a quote from an artist I admire recently that said, 'if you can do anything else, do that, because this and acting are the hardest industries to be in. No matter how much talent you have, it's a tough market out there and the competition is fierce, with the same established artists dominating the scene. So you have to have mental and emotional stamina. But for me, I'm okay being blunt when I say that if I couldn't do music, I would rather die. In so many ways, I just don't have a choice. If you feel like I do, then you have to find a way to make it happen."
Jonathan Widran is a free-lance music/entertainment journalist who contributes regularly to Music Connection, Jazziz and All Music Guide. He can be reached at Few522@aol.com. He is also on Google+

Comments